Personal Web Page of Martin Schulz
To visit his official Sauder homepage, click here.
---
Personal Information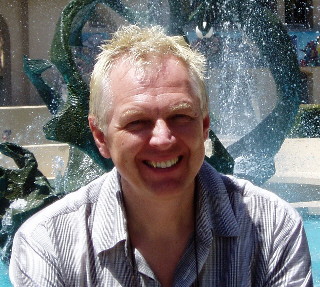 Martin Schulz is an Associate Professor in the OBHR Division of the Sauder School of Business at the University of British Columbia, located in Vancouver, British Columbia, Canada, Planet Earth.



Address:
Martin Schulz
Sauder School of Business
University of British Columbia
2053 Main Mall
Vancouver, BC V6T 1Z2
Canada
Martin.Schulz @ sauder.ubc.ca
Phone: (604) 822-8381
Fax: (604) 822-8517
Official Homepage: http://www.sauder.ubc.ca/Faculty/People/Faculty_Members/Schulz_Martin

NOTE: I do not use Linkedin and all email from that web site is automatically deleted by my spam filter.


---
Martin's Current Vita
For my vita in PDF format, click here.
Degrees
Soziologie Diplom 1982 Universität Bielefeld
MA 1989 Stanford University
PhD 1993 Stanford University

---
Research Interests
I am a sociologist, specialized on organizations, teaching organizational behavior, statistical models, and macro organizational theory.
My research is on change and persistence -- how and why organizations and their components change and persist through time. I hope to contribute with my research to a deeper understanding of the natural evolution of the social world. I use statistical models to explore the mechanisms that create, maintain, and transform persistent patterns of behavior.

A large part of my research is concerned with rules and related phenomena such as routines, guidelines, and laws.The field of rules is broad and expanding. In a world where markets become increasingly replaced by bureaucracies, understanding the evolution of rules and rule systems becomes increasingly relevant.


Keywords: Organizational Learning, Organizational Knowledge, Organizational Rules, Organizational Routines, Bureaucracies, Red Tape, Evolution of Laws, Decision Making, Knowledge Management, Multinational Corporations, Organization Theory, Organization Design, Business Process Reengineering, Mathematical Models, Quantitative Methods.
---
Selected Publications
| | |
| --- | --- |
| Schulz, Martin "Limits of Bureaucratic Growth: The Density Dependence of Organizational Rule Births". Administrative Science Quarterly. Vol 43, No 4, Winter, 1998 | JSTOR LINK |
| | |
| --- | --- |
| | The study uses a population ecology approach to examine whether bureaucratic rules breed more rules. Hypotheses about the birth rate of bureaucratic rules are derived and tested with time series data on rule production in a large U.S. research university. Results show that the rate of rule production declines with the number of rules in a rule population over time. The results support organizational learning theories: by expanding the number of rules, organizations increasingly respond to environmental challenges in a programmed way, reducing organizational experiences with new situations, inhibiting organizational learning, and thereby eliminating a main impetus for making more rules. Radical bureaucratization theories, however, are not supported. |
| | |
| --- | --- |
| Schulz, Martin "Pathways of Relevance: Exploring Inflows of Knowledge into Subunits of Multinational Corporations." Organization Science, 2003, 14 (4): 440-459 | JSTOR LINK |
| | |
| --- | --- |
| | To understand what determines knowledge flows into organizational subunits, this study examines the relevance of the knowledge to the operations performed at the receiving subunit. This study analyzes inflows of knowledge from peers and supervising units into subunits of multinational corporations. It examines factors that affect the relevance of extra-unit knowledge to receiving subunits and explores empirically how these factors affect knowledge flows. The results show that knowledge travels along established ties from large knowledge bases into unspecialized, codified, locally responsive knowledge bases. The results are consistent with the view that relevance provides pathways through which new knowledge connects to prior knowledge. |
| | |
| --- | --- |
| Schulz, Martin "The Uncertain Relevance of Newness: Organizational Learning and Knowledge Flows". Academy of Management Journal, 2001, Vol 44, no 4, 661-681 | JSTOR LINK |
| | |
| --- | --- |
| | This study explores how organizational learning in subunits affects outflows of knowledge to other subunits. Three learning processes are explored: Collecting new knowledge, codifying knowledge, and combining old knowledge. The results suggest that collecting new knowledge intensifies vertical flows, of knowledge, that codifying knowledge facilitates horizontal and vertical flows, and that combining old knowledge mainly affects horizontal flows. More generally, the study suggests that uncertainties about the relevance of new knowledge are resolved via vertical flows, which (compared to horizontal flows) expose new knowledge faster to a wider range of remote and different knowledge and thereby facilitate faster, more comprehensive discovery of its relevance. |
| | |
| --- | --- |
| Schulz, Martin "Impermanent Institutionalization: The Duration Dependence of Organizational Rule Changes" Industrial and Corporate Change, 2003, 12 (5): 1077-1098 | PROQUEST LINK |
| | |
| --- | --- |
| | Organizational rules face competing pressures that can make them more or less permanent. On the one hand, pressures for reliability, legitimacy and efficiency demand unchanging rules that provide lasting guidelines for organizational action. On the other hand, changes in the environment and the imperatives of organizational growth demand timely adaptation of organizational rules. How do organizations respond to such pressures, and what are the resulting patterns of rule change? Prior explorations of this question have emphasized either (i) institutional predictions: the likelihood of rule changes should decrease with duration (waiting time between changes); or (ii) obsolescence mechanisms: the likelihood of change should increase with duration. Surprisingly, recent studies on rule change find that in some contexts the likelihood of radical rule changes ('suspensions') increases with duration, while the likelihood of incremental rule changes ('revisions') decreases. In order to explain this surprising finding, I develop simulation model that allows me to explore how rule changes are affected by organizational tolerance for obsolescence. The findings suggest that the model offers a valid explanation for the observed patterns of rule change. A main implication of this paper is that organizational rules can become impermanently institutionalized when their obsolescence is tolerated and they grow obsolete beyond repair. |
| | |
| --- | --- |
| Schulz, Martin "A Depletion of Assets Model of Organizational Learning", in: Journal of Mathematical Sociology, 1992, Vol. 17(2-3), pp. 145-173 | LINK |
| | |
| --- | --- |
| | This research investigates how population heterogeneity with respect to initial assets affects the rate of failure (or change) of organizations and social relationships. Organizations and social relationships are assumed to be endowed with initial assets which buffer against initial risks of failure. Failure is seen as the outcome of a process in which the assets are depleted and finally become exhausted. The core idea is that the assets of a unit become depleted through learning experiences which incur search costs and setbacks. Two settings are explored: A constant rate of depletion, and a declining rate of depletion of assets. The study explores additionally how the distribution of initial assets affects the failure rate of the population. It is found that the type of distribution of initial assets has a strong impact on the time dependence of the failure rate. A Normal distribution of initial assets leads to positive time dependence if the depletion rate is constant, and to negative time dependence if the depletion rate declines. The results show that population heterogeneity with respect to initial assets has effects on the time dependence of failure rates which are quite different from the popular case of population heterogeneity with respect to fit. |
---
Cool Pointers
Frontiers of Organizational Knowledge

Why standardized testing is junk!

Dr. Antweiler's very useful currency exchange page

Want to know what beer is? Bier aus Deutschland
Not so serious stuff from Germany Loriot!!

German is a wonderful language! Learn some German (with Loriot!!)

---
Contact Martin via